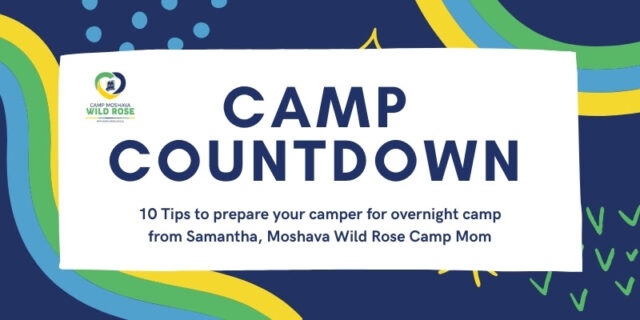 Mental Mindfulness –

Before camp, discuss the Moshava program with your child. Click through the website together, look at photos, and review the daily camp schedule. We know that it has been a while since your child has slept away from home so make sure to set their mind at ease.

Camp Ready

– Help your child get ready for camp before they leave. Do all those practical jobs – get a haircut, check for lice, and take them to the dentist and doctor, if needed. Be honest with your Camp Directors and the Camp Mom. Whether your child is taking medication, sleepwalks, or wets the bed occasionally, discuss all those details before camp begins.

Kids in Charge – O

vernight camp is a huge milestone for your child and a chance for them to become more independent. Let them take charge, with your support, of the camp prep. Shop for camp supplies together, pick out things they need and a few fun things, too. Let them pack with you; these things will help them really get in the mindset of their camp experience and what it will be like.

Pep Talk Time – It's natural to feel nervous about going to camp and so many other kids will be feeling the same way. Give your child a pep talk before camp begins. Reassure them that the first few days might be difficult, but once they push through those first days they will grow so much and have the adventure of a lifetime.
Goal setting – Set goals with your child of things they want to do during the summer. Make a goal list of top 5 things they want to do this summer. For example, make a new friend from another state, learn a new craft or bake something new, go down the zip line or adventure bike like a pro. By the second week of camp, make sure in your letters to them to specifically ask your child about their goals and what they have already done.
Homesick – Overnight camp is so much fun and after those first few days your child will be having the best time – but homesickness will occur now and then. When you pack up your child, add a few pictures from home, send them with lots of paper, writing materials to send letters home, and even a journal to write about their feelings. Tuck a few secret notes in their duffels so they have some surprises along the weeks ahead in camp. Label letters with "open week #1″ and "open week #2, etc…" so they have nice surprises from you during the weeks of camp.
Positive letters from home – Your child will love receiving mail from you whether they write you back often or not. However, be cautious about what you write. For example, don't make your child feel guilty (i.e. "we are lonely without you here"), avoid bad news when possible (i.e. "your goldfish died"), avoid news that might make them more homesick (i.e. "we got a new puppy and you're missing it"). Instead of giving them lots of news from home, ask lots of questions about their camp experience. Try to send shorter letters often and keep it positive!
Don't spoil it – Please do not make promises to your child that might spoil their camp experience. If they get homesick, don't promise to come pick them up. They might struggle for a while, but the results will be a new found confidence if they stick it out. If you tell them that you will be there the minute they get homesick, they won't really give camp a chance. Summer camp can build resilience in children and is a great place to foster independence and make good decisions.
Parent party – This summer is about parent time, too! You deserve some "me time." Take this time without your child to do some things you have really wanted or waited to do. Whether you take a vacation, meet up with friends or go to dinner, this is a great time to recharge before you begin your parenting routine again.
Short and sweet – On the day your child boards the bus, keep the goodbyes short and sweet. After all the preparation for camp you and your child might still be a bit anxious. Keep it positive and happy and continue to use phrases like, "you will have the best time" and "we are so happy you are going to have an incredible summer experience." Keep it together and make sure they leave your side excited for a great summer. You can cry tears later in the car, once they've boarded the bus.