Refer to our camp discounts, fees, and registration/cancellation policies below.
Incentives and discounts can be combined where applicable. Scholarship recipients are eligible for discounts and are encouraged to apply as many as are applicable; scholarship funding is awarded based on total financial need and funds available on a first come, first serve basis
Ways to Save
REFERRAL: Families who refer a NEW family that enrolls to camp will receive an additional $100 off per new referral
Your first-time camper may be eligible for a Summer Camp Grant of up to $1000!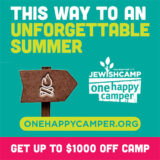 One Happy Camper: Please click here to check your eligibility for the One Happy Camper program. Then click the "Apply Now" button in the top right corner.  One Happy Camper is not a scholarship program and grants are not based on financial need. There is no official deadline, but a limited number of grants are available and once they're gone, they're gone!
PJ Goes to Camp: Please click here to check your eligibility for the PJ Goes To Camp grant. Note that for students who attend a Jewish day school grants are done by lottery and there are a limited number of PJ Goes to Camp incentives.
Scholarships 
Scholarships are awarded based upon financial need and will be given first come, first serve. Our first review of scholarship papers begins on November 1st, 2023. We encourage you to register for camp and fill out the scholarship application, returning it in a timely manner so you can be in this round of the review process. Scholarship applicants are required to apply to their local Jewish Federation for scholarship opportunities as well. Our scholarship application is available here .
Payments & Fees
REGISTRATION FEES: There is a $500 registration fee per child for all programs, of which $100 is non-refundable. This fee must accompany the registration/application.
CAMPING TUITION PAYMENT DEADLINE: All camping tuition and fees are due by May 1, 2024. Campers will not be permitted to attend until all camping tuition and fees have been paid and a completed medical form has been returned to the office.
ADDITIONAL FEES: The camping tuition includes medical services provided in camp, as well as laundry. However, prescriptions, and doctor visits outside camp.
Acceptance
NEW CAMPERS: First-time attendees of Camp Moshava Wild Rose may be contacted by the camp for an interview to establish that the camp is suitable for the child, and the child for the camp.
HIGH SCHOOL AND MIDDLE SCHOOL CAMPERS: High school campers attending Camp Moshava Wild Rose for the first time must submit a letter of recommendation from a teacher or principal and may also be contacted for an interview
Cancellations, Changes, & Refunds
PARTIAL ATTENDANCE: Camp Moshava cannot pro-rate camping fees for late arrivals or early departures. 
CAMPER DISMISSAL: Campers sent home for disciplinary reasons will not receive a refund.
CANCELLATIONS: Refunds for cancellations follow the schedule below.
Before March 1
100% of tuition, minus a $100 non-refundable
portion of registration fee
After March 1

100% of tuition, minus full registration fee listed below

Moshava+/Moshava Classic/Machal: $500

Mini Mosh/Moshava Meyuchad: $150