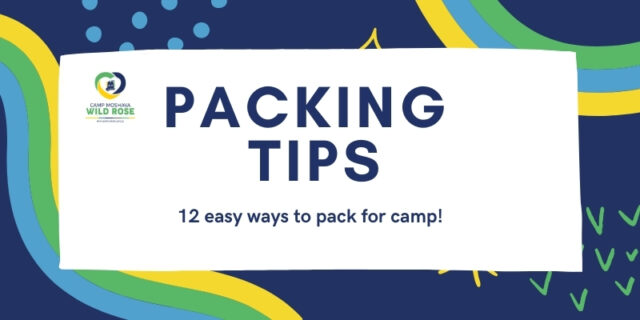 Packing help – You may be the one primarily packing for your camper, but be sure to review everything you packed with them so the items look familiar.  I usually even add the packing list with how many of each item I included so they can use it when they pack up. One other suggestion – I know it sounds silly but make sure they know what their duffels look like!
Label everything – Clothes, flip flops, rain boots, toiletry baskets, soap, flashlight, water bottle, etc. Do not assume your camper will recognize or remember what you/they packed, and other campers may have the same item. Label everything so they find it easily!
Buy a custom stamper – You can easily find this on Amazon for under $10 and this is the best thing to use on socks, underwear, and places difficult to put a sticker/iron-on label.
Bedside caddies are great – This is a way to store a deck of cards, books, flashlight, pens, etc.
Light and fan – These are not mandatory but your kid will thank you for sending them with a clip-on night light and/or fan. Preferably send battery operated ones as there are limited outlets available in bunks. Be sure to send extra batteries!
Shower caddy – Make life easier for your kid by sending them with something to store all their bathroom products, and then a smaller basket that just holds soap, shampoo, and conditioner for when they go to shower.
Random extras – Pack them some bandaids, extra batteries, extra pens, extra water bottle just in case.
Want them to write to you? Address the envelopes ahead of time 🙂  I always make a sheet of mailing labels addressed to home, grandparents, aunts, cousins, friends, etc. Then when they write letters it's super easy for them to mail it and the address is written properly. And don't forget to send stamps!
Laundry – Send them with a mesh bag to put all their dirty socks in – they will be less likely to lose them.
Fabric storage cubes are a great drawer solution for camp shelves. These are easy to pack (2-3 should be sufficient) and they are a great place for campers to keep and organize smaller apparel and camp supplies like underwear, socks, lotion, bug spray, etc. You can even include one for them to throw all their shoes in for under the bed!
Towels – Try to get towels that have a sewn-in band for a hook – or even add ones to their towels yourself.  There will be less of a chance of it falling onto a floor that way. Also make sure to pack towels that are designated for the pool, and towels that are for the shower – and remind them they should keep them separate!
Send them with a drawstring backpack – That way when they have swim they can easily carry their towel and change of clothes around.